De Love Lodge is volledig gebouwd van zilverspar boomstammen. Hierdoor voel je je letterlijk omarmd door het hout. De lodge heeft een groen mos sedum dak. De sedumplanten fungeren als een extra geluidswal waardoor je zowel binnen als buiten meer rust ervaart. De Infinirgy lodges geven je een unieke ervaring!
De lodge is
zeer geschikt voor koppels, gezinnen, kunstenaars en natuurlijk… natuurliefhebbers om…
… tot jezelf te komen
… er tussenuit het hele gezin
… een romantisch verblijf voor twee
… een inspirerende sessie
… een retreat
… een boek te schrijven
… te creëren zoals een boek of foto's
… vertel het ons!



Laad jezelf weer even helemaal op in de natuur
Deze geweldige lodge is gelegen in de bossen en duinen van Soest. Dit ligt in de magische Utrechtse heuvelrug in het midden van Nederland.
Je kunt ontspannen en de vogels horen fluiten en eekhoorntjes en herten zien. Wil je er op uit, dan is de centrale ligging perfect om Amsterdam, Utrecht en Amersfoort te bezoeken.
De lodges geven je een ontspannen en vredig gevoel. Mocht je je willen vermaken dan is hier genoeg te beleven in de omgeving. Er zijn voldoende leuke restaurants, musea, sauna's en een golfpark vlakbij.
Wij bieden twee lodges aan: De stijlvol ingerichte Love Lodge en de robuuste
Infini Lodge.
De lodges liggen direct naast elkaar. Het is dus ook mogelijk om beide lodges tegelijkertijd te boeken.
Ideaal voor twee groepen en genieten van je privacy of een break-out sessie of lunch tijdens inspiratiesessies.
Over de Love Lodge, (4-6) personen.
De Love Lodge is stijlvol gedecoreerd, comfortabel en met een mooie tuin met privacy.
Er zijn drie slaapkamers boven met 3 tweepersoonsbedden (1.60, 1.40, 1.40)
Beneden is de grote woonkamer incl keuken (45m2) en er is een badkamer en separaat toilet.
De keuken is goed uitgerust met vaatwasser, vriezer, Nespresso-apparaat en voldoende kookgelegenheid.
De badkamer heeft een douche en een separaat ligbad. Er is een föhn, wasmachine en droger. Handdoeken zijn voor beschikbaar.
De woning wordt goed verwarmd door vloerverwarming, centrale verwarming én een houten palletkachel.
De fraai aangelegde tuin is voorzien van een veranda, ruime tuinmeubilair voor 6 personen met heater.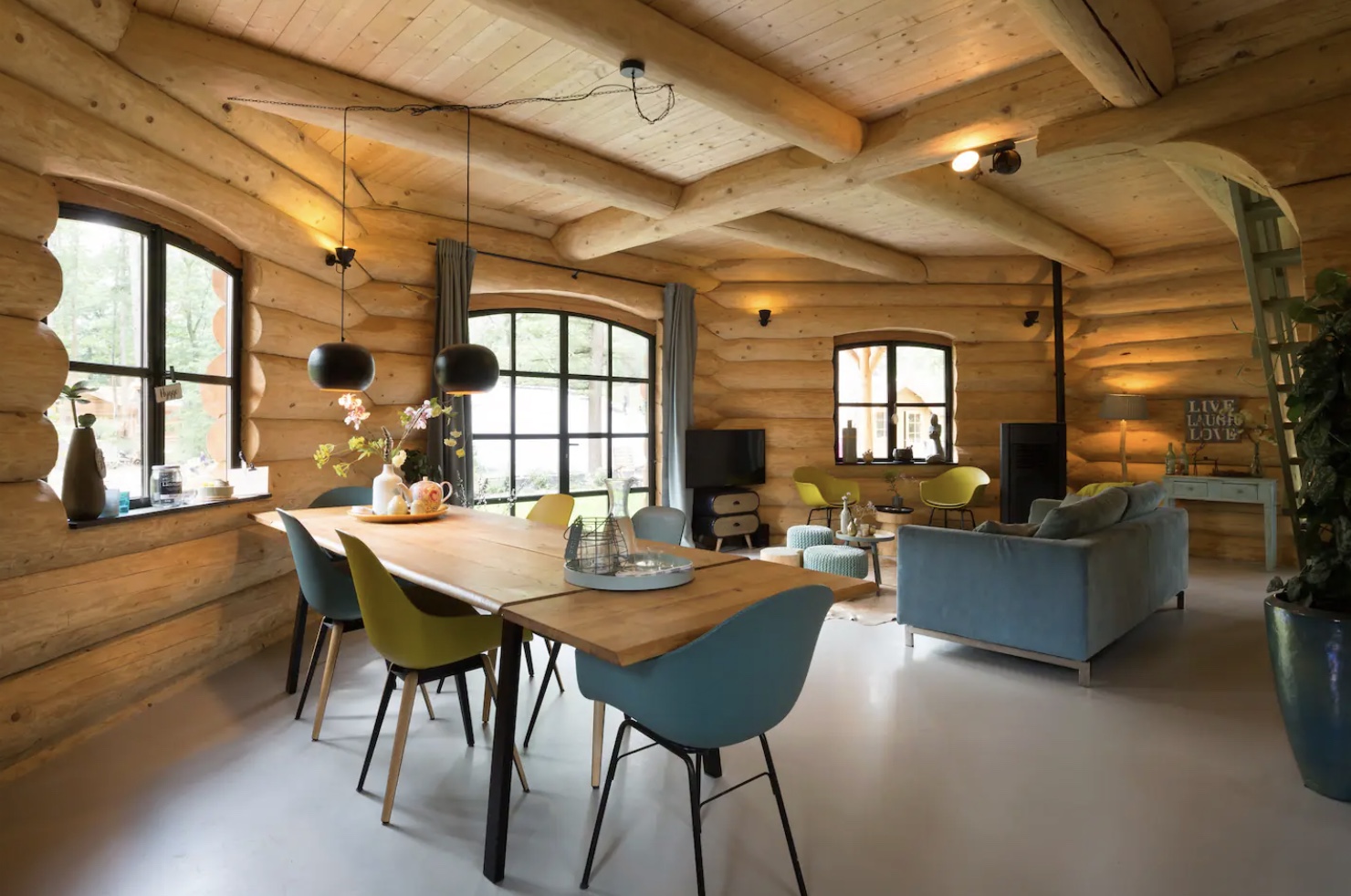 Genieten in de LoVe Lodge 
– een lang weekend (Vrijdag 15.00 tot maandag 11.00) 750 euro.
– een hele week = 1 nacht gratis (Vrijdag 15.00 tot vrijdag 11.00) 1.500 euro
– De schoonmaakkosten zijn 75 euro per verblijf.
– Een week voor aankomst wordt de borg van 350 euro gevraagd door de beheerder die wordt teruggestort na het verblijf. Dit bedrag wordt verminderd met de toeristenbijdrage van 1,20 euro per persoon per nacht.
Opties om te annuleren:
– Je ontvangt 75% terug bij annulering 3 weken of langer voor de aankomstdatum.
– Je ontvangt 50% terug bij annulering 10 tot 20 dagen voor de aankomstdatum.
– Je ontvangt geen restitutie bij annulering 10 dagen of minder voor de aankomstdatum.
Neem Contact met ons op voor beschikbaarheid. We nemen zo snel mogelijk per mail of telefoon contact op om de mogelijkheden door te geven.
Wat heeft de lodge te bieden
Midden in de natuur (bos en duinen)
Mooi uitzicht op de tuin
Handdoeken, keukendoeken en beddengoed, zeep
Gratis gebruik van wasmachine en droger
Extra kussens en dekens
Strijkijzer en droogrek voor kleding
Entertainment: tv met Netflix, standaard kabel-tv
Boeken en lectuur, Bordspellen
Palletverwarming
Rookmelder, brandblusser en EHBO-doos
Internet en kantoor, wifi
Eigen ingang
Terras in de achtertuin, tuinmeubelen en eethoek buiten
Gratis parkeren op eigen terrein, 50 meter vanaf de lodge
Oplaadpunt elektrische auto (vooraf op speciaal verzoek)
Bagageopslag toegestaan
Zelf inchecken met sleutelkastje
Read more than 50 reviews from our guests all over the world
Mark (UK)
august 2022
"Great location, quiet and ideally located to get a feel for the Netherlands, without the hustle and bustle of Amsterdam. We wanted to visit Utrecht, but in the end Amersfoort, a short bike ride away, was so perfect that we really didn't feel the need to go anywhere else. Between Soest and Amersfoort you have a windmill, canals, pancakes, frites, a unique landscape, a unique house to stay in. What more could you want for a short break in the Netherlands? Perfect."
Delphine (FRANCE)
august 2022
"Beautiful wooden lodge in a pine forest. Very nice garden with different corners to read or relax. Located between Utrecht and Amersfoort, two cities to discover. The dunes are a short walk from the lodge. Less than 1 hour to reach Amsterdam. Perfect stay."
Kevin (Germany)
august 2022
"This beautiful and cozy lodge leaves nothing to be desired. It captivates with a really very welcoming interior with attention to detail. Communication was impeccable and very pleasant. Really recommended!!! Always happy to come back."
Stephan (Germany)
july 2022
The lodge is really nice and is quietly located in a piece of forest in a small settlement of similar houses.
The house is well equipped and we lacked nothing. There is plenty to discover in the area. However, you can also reach the coast in about 1 hour by car.
The communication was super friendly and we got a lot of good tips.
We had a great time – thank you!
Merel (Almere, NL)
may 2022
"We had very nice days in Soest. The cottage was very cozy, a beautiful garden and the location was great! Took a walk every morning at the dunes, visited the National Military Museum and the Klimbos in Lage Vuursche. Recommended with children."

Jim (CALIFORNIA)
may 2022
"Lorraine was the perfect host. Communication was excellent, check-in and check-out was easy. Restaurant recommendations were very good. One of the best meals of our trip was at Sabrosa. The location of the wooden house in Soest was a surprise because it is close to Utrecht and Amersfoort, places I never thought of visiting. The cabin was very memorable. It was comfortable in a relaxed environment. Singing birds in the forest was a welcome change in Amsterdam, Paris, London and Dubai. The decor was modern, fun and well thought out. Great place for a couple or a family. I wish we had the time to stay longer – maybe on our next trip. Thank you!"
Arnaud Et Agnès (FRANCE)
april 2022
"We recommend this house for a visit to the Netherlands. You will have a pleasant stay in a quiet, relaxing and unusual place."
Arjan (NL)
oktober 2021
"Nice, attractive, comfortable house in a beautiful location in the woods and close to the dunes. Host is friendly and helpful. In short: recommended!"
Noa
september 2021
"Really nice cozy wooden lodge near the dunes. Decorated with good taste, we really felt at home. Perfect place for a relaxing weekend. Me and my family had a great time!"
Martijn (NL)
august 2021
"A beautiful, special house, with a nice garden in a small-scale park near the dunes. Highly recommended for a very reasonable price!"
Family Broer (Rotterdam, NL)
july 2021
"A very nice house in a very nice place. Ideal for enjoying nature. Highly recommended! The host also responds very quickly and is very helpful."
Andrea (Amsterdam, NL)
March 2021
"A fantastic house in a great location surrounded by nature! Very atmospheric and you immediately feel at home. Nice reception and contact with the landlady. We would love to come back again!"
Merel (Schagen, NL)
february 2021
"Great location and a lovely house. You walk / cycle straight into the woods and when you get back a cup of tea by the fireplace. We are fully charged again."
Eefje (NL)
January 2021
"Spacious house, attractively furnished and with a few steps you are in the middle of nature. Highly recommended to relax for a while."
Haye (Rotterdam, NL)
November 2020
"Very nice and cozy house, within walking distance of beautiful walks through the woods."
Cameron
October 2020
"Great house, beautifully and stylishly equipped. Fantastic beds. Really good location for exploring the local forest and dunes on your doorstep."
Annelore
august 2020
We stayed for a short week in this beautiful wooden lodge near Soest. It is the perfect location to relax after a long day in Amsterdam. The house itself is quite new and very spacious with many details. We loved the big garden around the lodge which you can read in a different place every day. The sand dunes are absolutely amazing and you can easily walk to them. The highway is only a few minutes away, so you can drive to the center of Amsterdam in about 40 minutes. We look forward to coming again in the future for a longer stay as the Netherlands is such a beautiful country.
Erwin
june 2020
Fantastic forest oasis in the center of the Netherlands. The clodge is privately owned, and the owner lives in it so it has a certain (and tasteful) personal touch. The garden and forest / dune area are beautiful. The kitchen is very well equipped and the garden has no less than 5 different sitting areas, so there is a perfect place for every moment of the day. Lorraine was a great landlord, both in communication and by leaving us a really nice welcome pack (thanks again for the wine:-)).
Luuk (Berkel & Rodenrijs, NL)
august 2020
"The house already looks exemplary and it really is! What a wonderful environment to relax. There are many fun activities in the area to do with children. We went for a walk in the dunes, went to the Military Museum, visited a horse boarding house and went canoeing. The cottage is spacious and fully equipped. We are very satisfied with our stay and will definitely recommend it to friends."
Ymte
oktober 2019
"Beautiful location, with lots of options all around!"
Griet (Belgium)
August 2019
"Blissful lodge to relax with the family in the woods of Soest. The look and design of the house is completely finished. There are also many possibilities for excursions and to eat in the area on foot, by bike or by car. Smooth communication and chance meeting with the landlady. We would like to come back again!"
Judith (NL)
August 2019
"Beautiful log cabin! Lovely places to sit outside around the log cabin. Spacious inside and nicely decorated."
Henrik (NL)
march 2019
"The Love Lodge' is a beautifully modern and luxurious log cabin in the middle of a unique nature reserve, where every day is cheerfully ushered in with the enthusiastic chirping and twittering of all kinds of birds. Highly recommended for young and old to come all the way to yourself."
Menno (NL)
"Beautiful home! In the middle of the forest. Great location and it is wonderfully quiet!
Emmanuel
"House as in the photos. Very nice in the woods. We had a great time. Thanks Loraine"
Ruth
august 2019
The Love Lodge is beautifully decorated, a wonderful space to stay. There are local things to visit on foot, such as the sand dunes. We also used the local train station to get into Amsterdam and ride to other places such as Utrecht and Efteling (a must if you have kids! Lorraine was a fantastic host and was happy to help and quick with any questions. Share of the property are still under construction, but that didn't affect our stay at all, I'm going to miss sitting on the lovely benches outside the house, with a cup of tea in the morning and a glass of wine in the evening, listening to the sounds of the forest!
Sven (GERMANY)
july 2019
"Nice seating around the whole house – nice location in the woods. The dunes are highly recommended and romantic."
Marcel (FRANCE)
april 2019
Lodge, original, very pleasant, very comfortable, quiet in the woods without being isolated. Thank you
Vincent (FRANCE)
april 2019
Very good reception. Very nice accommodation where the living room is good.
Hanneke (NL)
October 2018
"Very attractive house, very neat, comfortable and fully equipped. Beautiful environment. Highly recommended!"
Anton (NL)
august 2018
"Great special location, which is really different. Unique house, beautiful styling in theme.
Our children aged 8, 11 and 13 were relaxed, happy and very satisfied with all the amenities available….as a parent what more could you want."
Alice
august 2018
We really enjoyed our stay in the Love lodge. There are many other lodges nearby, but it was very quiet during our time. The dunes nearby are amazing, well worth a visit at sunset (and other times of the day). We rented bikes from Jacco de Bruin in Soest and had some great bike rides through the pine forests, to Utrecht and Amersfoort (well worth a visit). Thanks Lorraine!
Lucila
august 2018
"Lorraine is a very nice hostess and she is always willing to help. We loved the beautiful wooden lodge in the forest and the surrounding area. It is very well located for day trips to major cities in the country.
We highly recommend this lovely place!"
Abigail
april 2018
"Lorraine's lodge was a perfect place for my family. It is approximately 45 minutes from Amsterdam Airport. It's cosy, clean and comfortable. There are a lot of toys for kids, so my kids never got bored. Her home is so unique and it is just minutes away from great restaurants and shopping centers."
Rob & Sandra (NL)
april 2018
"Had a wonderful stay with our family. Tastefully decorated, good equipment, nice arrival."
Koen (NL)
august 2017
"Beautifully situated in nature with breathtaking sand drifts within walking distance. Friendly atmosphere in the park itself. The house embraces you through the use of materials (tough tree trunks) and layout. Recommended if you want to get away from it all."
Laetitia
July 2017
"Wonderful place, fantastic environment, cozy. Lots of toys so great for kids too. Strongly recommended!"
Josie
may 2017″
Lorraine was very helpful in giving tips about the area and communicating to see how things were going during our stay. We loved the area, lots to do with kids. You feel like you are secluded in nature, but the house is actually really close to restaurants and fun activities. We really enjoyed the quaint city center in Amersfoort it was much more than we expected. Great weekend getaway!"
Rieke (NL)
May 2017
"We had a wonderful stay in this beautiful lodge in a prime location. In the middle of the forest and very close to the short and long dunes. In addition, plenty of fun things to do in the versatile environment."
Tom (NL)
July 2016
"This blissful lodge is a perfect base for a stay in nature. It is located in a domain with several log cabins without a recreational function. This makes it very quiet. However, the log cabin offers plenty of options for the kids. (our two daughters were with us)
There are many toys in the house. (ideal for rainy days) But of course there is the forest that calls for adventure.
All facilities are present in the house and that makes it pleasant. (shower, bath, dishwasher, washing machine, dryer)
The house is also the ideal starting point for endless hiking and cycling tours through nature."
Marieke
september 2016
The Love Lodge is erg mooi! Het is gloednieuw, goed uitgerust en zeer mooi ingericht. De omliggende 'tuin' is nog in aanbouw dus een beetje leeg, maar je zit midden in de bossen dus het maakt niet echt uit. De stad Soest is echt dichtbij, erg handig. We verbleven met een groep van zes volwassenen en dat was een beetje gezellig in de slaapkamers, maar het is oké als je het niet erg vindt om een bed van 1,40 m te delen. Lorraine was een goede verhuurder, verwelkomde ons met een fles wijn en liet ons zelfs wat langer blijven na het uitchecken. We hebben hier een heel leuk weekend gehad!
Teresa (SPAIN)
august 2016
"It's been perfect. The lodge is beautiful, the perfect setting, with an incredible view, in a forest. Everything fits perfectly with the accommodation and Lorraine was always very attentive and answered all questions, she was very kind. I would definitely stay here again if I came back to the Netherlands. It was a perfect vacation."
Maurits
august 2016
"Great location, beautiful house very cozy! Good restaurants and nature within walking distance"
We love to welcome you (back)!
| | |
| --- | --- |
| Options | Midweek (4 nights from Monday 15:00 to Friday 11:00), Long weekend (3 nights form Friday 15:00 to Monday 11:00), Week (7 nights from Friday 15:00 to Monday 11:00), Week (7 nights from Monday 15:00 to Friday 11:00) |